SIEF is an international organization that facilitates and stimulates cooperation among scholars working within European Ethnology, Folklore Studies, Cultural Anthropology and adjoining fields. SIEF organizes large international congresses and smaller workshops. Read more about SIEF...
Fourteen thematical Working Groups are active within SIEF which organize their own congresses and workshops.
SIEF News
The new board was chosen at General Assembly in Göttingen and consists of: Nevena Škrbić Alempijević, Sophie Elpers, Bernhard Tschofen, Robert Glenn Howard, Cyril Isnart, Ewa Klekot, Thomas A. McKean, Fabio Mugnaini, Marie Sandberg. Read about the new board members >>
Welcome to Santiago de Compostela: SIEF 2019
Welcome to Santiago de Compostela from SIEF on Vimeo.
Two new Ethnological sensations are available to view online: Petr Janeček (Charles University, Prague) found his way to Ethnology through a story his grandmother told him when he was ten. Elo-Hanna Seljamaa (University of Tartu) is fascinated by tools that Ethnology and Folklore Studies offer to go beyond facades and stereotypes.

Visit the SIEF Working Group Migration of Mobility webpage for all the details about these scholarships for postodoctoral researchers and PhD students.
The SIEF Congress in Göttingen is now over. The keynote videos are now online - click here to view the videos. You can still visit the congress site for panel/paper information.
The winner of the SIEF 2017 Young Scholar Prize is Lorenzo D'Orsi (1985), with his paper "Trauma and the Politics of Memory of the Uruguayan Dictatorship. Read more ...
Issue 5 of Déjà Lu has now been published on the WCAA website, this is the biggest issue yet, with 42 articles from around the anthropological world. Please visit the WCAA website to view and download the issue.
In two cabinet decrees issued in September and October 2016 within the context of the state of emergency rule, 68 signatories of the Peace Petition ("We will not be a party to this crime" – Academics for Peace, in January 2016) were deemed "supporters of terrorism", dismissed from their posts and banned from public service. At least two of these are associated with SIEF and our sister organization AFS: Yücel Demirer and Derya Keskin-Demirer, who frequently attend SIEF meetings. They were dismissed from their positions at Kocaeli University along with 37 other faculty members without a hearing or right to appeal the decision. They are among 3,613 academics dismissed by Turkish authorities in the last three months. Read more ...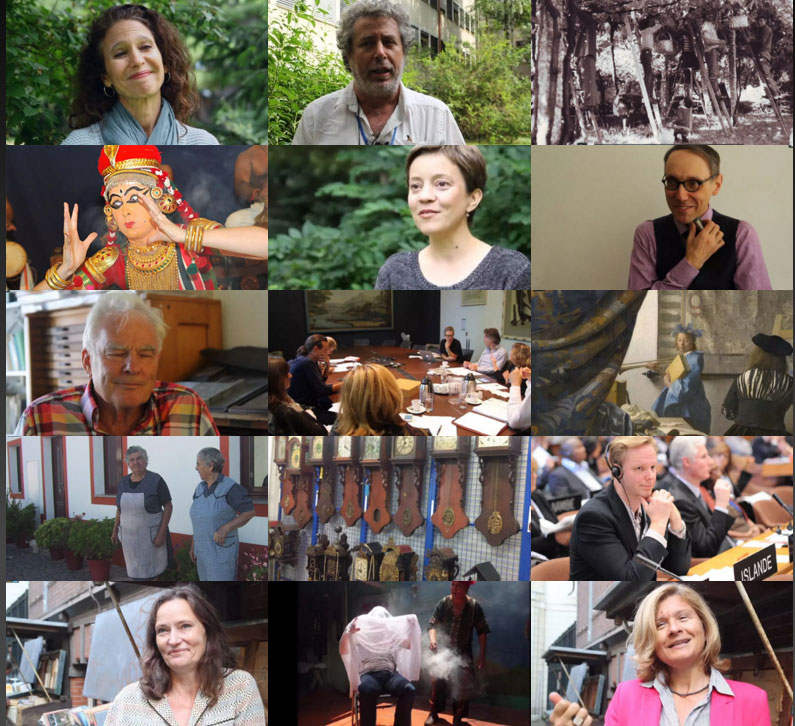 Check out a new resource for teachers, students, and scholars of ethnology, folklore, and related fields - Sensation Station: We introduce a portal for ethnological sensations, categorized by theme (from "Body, senses, emotions" to "Rituals and feasts", from "Fieldwork" to "Museums and archives", and from "Houses and homes" to "Migration and mobility", to name just a few). Take a look, try playing with it, and invite your students to do the same (it works on your smartphone too). View the new resource.
SIEF Working Groups
Call for Papers: Monuments and Memorial Sites in Changing Social-Political Contexts
Szeged, 21-24 November 2017
Faculty Conference Hall, University of Szeged, Faculty of Arts Szeged, Egyetem str. 2.

Download this call as a PDF
Deadline for applications is 1st June 2017. View the full call for papers here >>
SIEF JOURNALS
On the occasion of the 50th year since the publication of the first issue of Ethnologia Europaea in 1967, this issue is dedicated to reflection on the past half-century. It presents five articles, one from each decade of the journal's publication, on the one hand showcasing classic articles and on the other highlighting the shifts and re-orientations the journal has undergone along the way. These changes are addressed in the comments on each article by a wide range of scholars as well as in the overarching reflections on 50 years of Ethnologia Europaea by two of its former editors, Regina F. Bendix and Orvar Löfgren.
Special issue editors: Marie Sandberg and Monique Scheer

View the table of contents
As E‐journal: https://www.mtp.dk/details.asp?eln=300405
Kahithe Kiiru
National Competitive Festivals:
Formatting Dance Products and Forging Identities in Contemporary Kenya


Sheila M. Young
The Role of Costuming in Two Pre-wedding Rituals for Women in Northern Scotland


Christian Ritter & Klaus Schönberger 
"Sweeping the Globe":
Appropriating Global Media Content Through Camera Phone Videos in Everyday Life


A. Asbjørn Jøn 
Green Jesus of Azeroth:
Hero Myths and Fan Based Perceptions of Similarities Between Jesus of Nazareth and the World of Warcraft's 'Thrall'