SIEF is an international organization that facilitates and stimulates cooperation among scholars working within European Ethnology, Folklore Studies, Cultural Anthropology and adjoining fields. SIEF organizes large international congresses and smaller workshops. Read more about SIEF...
Fourteen thematical Working Groups are active within SIEF which organize their own congresses and workshops.
The 'Dark Histories' of European Ethnologies and
Folklore Studies
Online workshop organised by Diversity, Equity and Inclusion taskforce.
Workshop will take place on 22 September starting at 9:30 (CEST/Amsterdam timezone).
See here for the full programme and abstracts. Register your participation in order to obtain the access link.
SIEF 24th International Ethnological Food Research Conference
Museum of Ethnography, Budapest, Hungary, 18-20 September 2024
Conference Theme: Living Eating Habits, Revitalized Foodways and the Concepts of Tradition and Food Heritage
Folk Art in the 21st Century: Workshop in Split, Croatia 17-19th May 2024
What happened to the ethnological study of Folk art? While historically being of considerable importance to the development of ethnological and folkloristic academic research, the field seems to be more a task for museums and regarded as reflections of national and regional essence, and thus often connected to a rural past.
Today the uses of classical Folk art have become one of the many important issues for research. How is it used in ideological representations, promoting an understanding of the past where identification is expected sooner than interpretation. Or in contrast referring to acts of resistance, challenging political structures, and ideas of order. How has the selection of objects been carried out? Wich have been repressed, forgotten on grounds that they represent unwanted events, memories?
The mere definition of Folk art has been challenged due to new digital technologies. Today there are possibilities of creative communication that literally are in everyone's hand. Photographs have become tools to create biographies in pictures, where even the most unexceptional is given attention. Families, networks, and friends are being made and unmade through images on social media.
The intention with this exploratory invitation is to discuss new venues into this field via a three-day workshop with focus on Folk art in the 21st century. This will be held in the city of Split, Croatia between the 17-19th May 2024. Organizers are SIEF (Société Internationale d'Ethnologie et de Folklore) and Lund University, Department of Arts and Cultural Sciences.
The workshop aims to constitute a new Working Group (WG) planning for two more seminars with a publication as the outcome. The entire event will be generously sponsored by the Strömbom Foundation at Sparbanken Skåne, Lund. Costs for travel, accommodation, and meals are all covered. The number of participants is limited, and the board of the foundation will decide matters of participation on basis of abstracts.
For participation: A short abstract, no more than 2000 signs. On a separate sheet please state name, address, academic degree, institutional affiliation, and a brief list of publications corresponding to the focus of the conference. The application is to be sent by e-mail to either Jonas Frykman, or Björn Magnusson Staaf before the 1st of November 2023.
Contact:
Jonas Frykman jonas.frykman(at)kultur.lu.se
Björn Magnusson Staaf bjorn.magnusson_staaf(at)kultur.lu.se
​Call of the SIEF task force on Diversity, Equity, and Inclusion in European Ethnology and Folklore Studies (DEI)
The 'Dark Histories' of European Ethnologies and Folklore Studies
There will be an online DEI workshop on
22 September 2023, 09:30-12:30 CET
. The deadline for the call for contributions has been extended until 1 September.
Read the call in detail
.
Over 900 delegates gathered in Brno for 132 wonderful panels, roundtables and workshops. Browse the programme.
SIEF Newsletter for Spring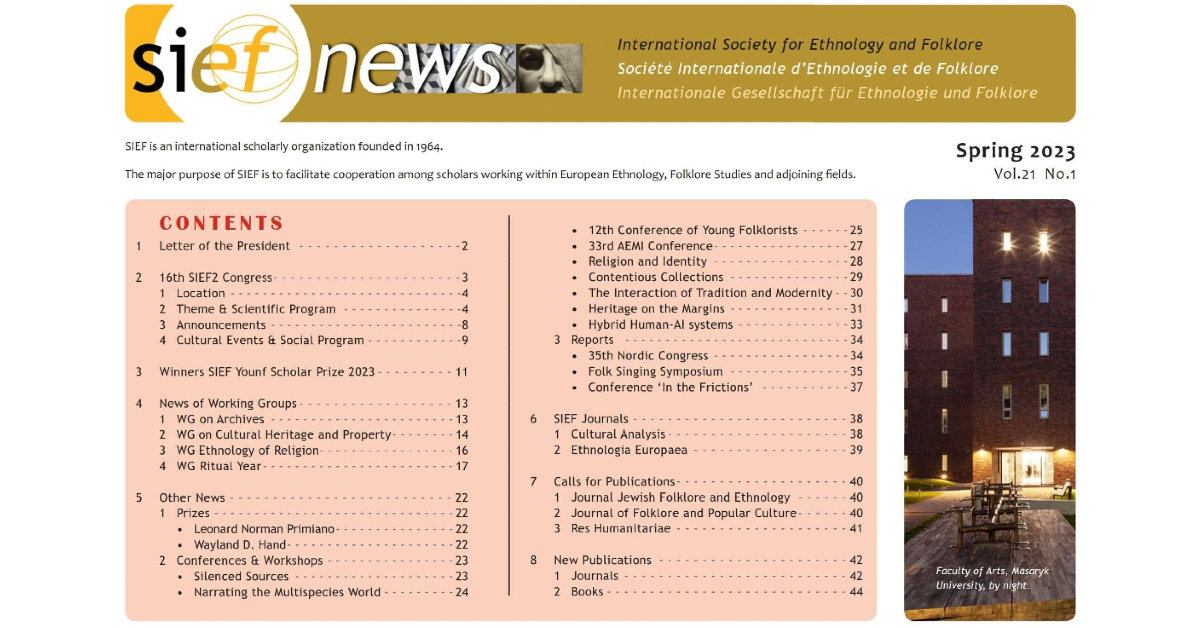 The SIEF Spring Newsletter is now out. Read
the PDF
or
webversion
.
Letter of concern regarding the Professorship or European Ethnology at the University of Turku, Finland
The University of Turku might indefinitely suspend the professorship of European Ethnology as a part of its economic plan. SIEF has sent a letter of concern.
Culture in Dialogue Seminars: Keeping Channels of Communication Open
SIEF stands for free and open communication across boundaries, borders, and disciplines. Today, with old divisions reappearing in Europe, we believe that specialists in Ethnology, Folklore, Anthropology, and related fields, have a duty to highlight lessons of the past and show that, through dialogue, we can reach better understandings of the world and each other. The SIEF Board introduces Culture in Dialogue, a series of occasional online seminars intended to encourage, initiate, and develop communication between East and West.
The inaugural event on 14 July features Stef Jansen, University of Sarajevo.
Read the abstract and register (free) to attend this Zoom.
Useful links of support resources for Ukrainians
The Executive Boards of SIEF and EASA have cooperated to disseminate information on support, scholarships and jobs offered to Ukrainian scholars at risk.
View this list of opportunities, advice and resources
received from various parts of Europe. If you have new/additional information please contact us via the email cited there.
SIEF Statement in support of academic colleagues in Ukraine
The International Society for Ethnology and Folklore (SIEF) is deeply concerned with the devastating developments recently witnessed in Ukraine. SIEF expresses its solidarity with the people of Ukraine including colleagues, students, and friends, who represent our scholarly fields of Ethnology and Folklore at the academic institutions of Ukraine.
Read the full statement
.
SIEF News
SIEF Working Groups News
SIEF 24th International Ethnological Food Research Conference
Paper proposals are now open for the 24th International Ethnological Food Research Conference. Read more.
Conference Theme: Living Eating Habits, Revitalized Foodways and the Concepts of Tradition and Food Heritage
SIEF JOURNALS
The latest issue of "Ethnologia Europaea" 53(1) 2023 is out! Journal content:
Francisco Martínez: How to Write Things: Fiction, Anthropology and Foreignness in Berlin.
Tom Fogel und Dani Schrire: Negotiating Tradition Archives in a Community Setting: Sounds of Silence and the Question of Credibility.
Ann Runfors: The Political as the Personal: Postmemory among Descendants of Polish Migrants in Sweden.
Elena Apostoli Cappello: Sustainability as a Symbolic Resource at the Local Level, and Its Strategic Uses: A Study in Northern Italy.
Dagrún Ósk Jónsdóttir: "[She] was very eager for men and hated living alone": Supernatural Women who Pose a Threat to Men in Icelandic Legends.
Ruxandra Ana: Ethnographic Snapshot: Common Grounds: Life and Ethnography on the Möbius Strip.
Please visit the Open Library of Humanities website for more information about the journal.
Special issue: Creative Ethnographic Methodologies
Creativity is an integral part of ethnographic practice. In this theme issue, however, you will find examples of research that in different ways is creative in ways that pushes the boundaries of traditional research further. Research that not only recognizes how the researcher is a co-producer of all ethnography but also actively seeks out collaborations with, for example, artistic research practices or creative writing. The articles in this issue all describe and analyze how creativity take place in ethnographic research, both in the research process and in research dissemination, and how that can influence the ethnographic work.
The articles in this issue are linked to themes of ethnographic creativity such as creative writing practices, poetic inquiry, and visual and sensory ethnography. In different ways do these articles address and show that creativity is essential both for gaining knowledge about a field of research and for communicating research results, both in- and outside of academia. This collection of articles can hopefully invoke interest and curiosity in other researchers to try out more creative approaches to ethnography and to think about in what ways ethnography is intertwined with creative practices.
The issue is co-edited with guest editors Jenni Rinne (Turku University, Finland) and Kim Silow Kallenberg (Södertörn University, Sweden).
Cultural Analysis is proud to formally release:
Cultural Analysis Forum Series 1: Pandemics & Politics.
Added in April 2023: ADAM HINDEN, ZIYING YOU, & ZHEN GUO: Online Activism and Grassroots Memorialization in the Age of COVID-19: Dr. Li Wenliang's Virtual Wailing Wall
Response by: Frederik Schmitz
For this inaugural first series rollout Cultural Analysis releases the following articles and essays. The first essay, Becoming Folkwise: Sustaining Digital Community While Socially Distant, introduces us to a group of self-proclaimed "early-career" folkorists who take the lead in analyzing digital engagement and community. Making Sense of the Pandemic of Racism: From the Asian Exclusion Act in 1924 to the COVID-19 Hate Crimes Act in 2021 by Juwen Zhang places the pandemic in the context of historical racial injustices against Asian-Americans (with a response by Fariha I. Khan). Lucy Long's essay, Refrigerators, cupboards, and canning jars: Emergent meanings and subversive practices in food preservation and storage during the Covid-19 Pandemic (with a response by Janet C. Gilmore, Emeritus Professor, University of Wisconsin-Madison) takes us to the United States and foodways. God is My Vaccine: Religious Belief and COVID in the United States by Andrea Kitta explores those who are vaccine hesitant, vaccine refusers, or vaccine hostile in the context of religion and freedom. Levi Bochantin and James I. Deutsch, in their essay, The Folkloric Roots and Pandemic Popularity of the QAnon Conspiracy Theory, explores some of the troubling folk beliefs and conspiracies that arose due to the events of 2020. Finally, Malay Bera's Interrogating Social Distancing: Pandemic and Farmer's Protest in India explores the complicated relationship of protesting, social distances, and the pandemic.
As the first inaugural open series, Cultural Analysis will be accepting rolling submissions, whether they be articles, essays, reviews, or responses, relating to the COVID-19 pandemic. Future submissions are planned to be published in waves. Cultural Analysis will expand this series as the COVID-19 pandemic continues to have a meaningful impact in our future and our lives. The pandemic landscape may no longer be changing rapidly, but nonetheless it will continue to change, for better or for worse. Cultural Alanysis is looking forward to hearing from you.
ARCHIVE
SIEF 2023 Call for Panels is closed
The Call for Panels for SIEF2023 in Brno is now closed. The call for posters and papers will open on 14 November, 2022. Please see more on the congress page.
SIEF 2019, 2021 and 2023 Congresses
SIEF2019: plenaries of the Santiago de Compostela congress have been published in the leading Spanish journal Disparidades. You can also find links to videos of all plenaries and social events including Barbara Kirshenblatt-Gimblett's closing lecture. Read more here...
SIEF2021: Breaking the rules? Power, participation and transgression took place fully online, in virtual Helsinki. Recordings of all events/panels can be found in the event timetable after logging in.
SIEF2023: welcomes you to Brno, Czech Republic: 7-10 June 2023. Watch the introduction video!
Ethnological Matterings
On the wings of the successful Ethnological Sensations series, Áslaug Einarsdóttir, SIEF's courtly filmmaker, has produced films with a slightly different scope. This time we will focus on ways in which ethnological and folklorist approaches and skills can be applied in different fields outside the academia in which our disciplines come to "matter". We will release one film each month until our gathering in Helsinki. View SIEF's Ethnological Matterings.
The last Ethnological sensation is available to view online: Cristina Sánchez-Carretero (Santiago de Compostela, Spain) describes how a journey of selfunderstanding during the funeral of her grandmother affected her later research on religion in Galicia.

What do ethnologists do?
Filmed at the SIEF2017 conference in Göttingen, this three and a half minute long film, entitled 'What do ethnologists do?' comprises SIEF members sharing their views on what distinguishes ethnology from other disciplines, and what ethnologists can actually do to tackle the challenges of the contemporary world. We hope you find the film inspiring and interesting.
SIEF shares the statement of AAA
AAA reaffirms its commitment to the values of diversity, equity, and human rights. We call on our colleagues to apply their professional research, scholarship, practice, and teaching to overturning the deeply entrenched institutional sources of race-based inequality that are barriers to a more just and sustainable world.
Read more on the
AAA website
.
In two cabinet decrees issued in September and October 2016 within the context of the state of emergency rule, 68 signatories of the Peace Petition ("We will not be a party to this crime" – Academics for Peace, in January 2016) were deemed "supporters of terrorism", dismissed from their posts and banned from public service. At least two of these are associated with SIEF and our sister organization AFS: Yücel Demirer and Derya Keskin-Demirer, who frequently attend SIEF meetings. They were dismissed from their positions at Kocaeli University along with 37 other faculty members without a hearing or right to appeal the decision. They are among 3,613 academics dismissed by Turkish authorities in the last three months. Read more ...