SIEF is an international organization that facilitates and stimulates cooperation among scholars working within European Ethnology, Folklore Studies, Cultural Anthropology and adjoining fields. SIEF organizes large international congresses and smaller workshops. Read more about SIEF...
Fourteen thematical Working Groups are active within SIEF which organize their own congresses and workshops.
SIEF News
The new board was chosen at General Assembly in Göttingen and consists of: Nevena Škrbić Alempijević, Sophie Elpers, Bernhard Tschofen, Robert Glenn Howard, Cyril Isnar, Ewa Klekot, Thomas A. McKean, Fabio Mugnaini, Marie Sandberg. Read about the new board members >>
Welcome to Santiago de Compostella: SIEF 2019
Welcome to Santiago de Compostella from SIEF on Vimeo.
The SIEF Congress in Göttingen is now over. We will add the keynote videos shortly. In the meantime you can still visit the congress site for panel/paper information.
The winner of the SIEF 2017 Young Scholar Prize is Lorenzo D'Orsi (1985), with his paper "Trauma and the Politics of Memory of the Uruguayan Dictatorship. Read more ...
Two colleagues confide in us this week on SIEF's Sensation Station: Nevena Skrbic Alempijevic (University of Zagreb, Croatia) tells us a story about political memory in Croatia and reminds us of the most important aspect of fieldwork: being there. Bernhard Tschofen (University of Zürich, Switzerland) speaks of alpine emotions and the sensation of revisiting an old research project and finding it open up to entirely new perspectives.

Issue 5 of Déjà Lu has now been published on the WCAA website, this is the biggest issue yet, with 42 articles from around the anthropological world. Please visit the WCAA website to view and download the issue.
In two cabinet decrees issued in September and October 2016 within the context of the state of emergency rule, 68 signatories of the Peace Petition ("We will not be a party to this crime" – Academics for Peace, in January 2016) were deemed "supporters of terrorism", dismissed from their posts and banned from public service. At least two of these are associated with SIEF and our sister organization AFS: Yücel Demirer and Derya Keskin-Demirer, who frequently attend SIEF meetings. They were dismissed from their positions at Kocaeli University along with 37 other faculty members without a hearing or right to appeal the decision. They are among 3,613 academics dismissed by Turkish authorities in the last three months. Read more ...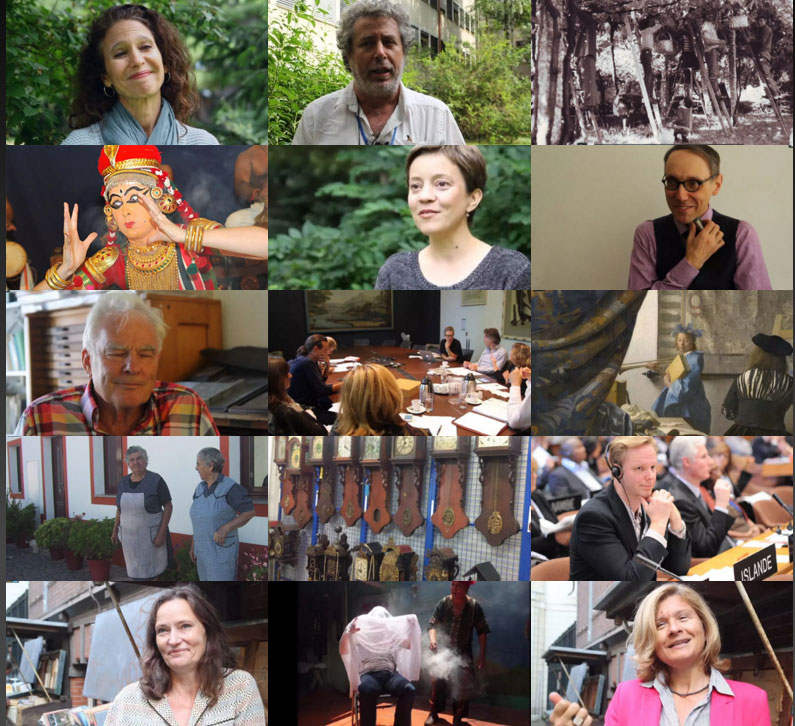 Check out a new resource for teachers, students, and scholars of ethnology, folklore, and related fields - Sensation Station: We introduce a portal for ethnological sensations, categorized by theme (from "Body, senses, emotions" to "Rituals and feasts", from "Fieldwork" to "Museums and archives", and from "Houses and homes" to "Migration and mobility", to name just a few). Take a look, try playing with it, and invite your students to do the same (it works on your smartphone too). View the new resource.
SIEF Working Groups
Call for Papers: Monuments and Memorial Sites in Changing Social-Political Contexts
Szeged, 21-24 November 2017
Faculty Conference Hall, University of Szeged, Faculty of Arts Szeged, Egyetem str. 2.

Download this call as a PDF
Deadline for applications is 1st June 2017. View the full call for papers here >>
SIEF JOURNALS
Contributions to this special issue take a back-door approach to the study of cultural practices by exploring various modes and forms of silence and silencing in daily life. Joining Gregory Bateson and scholars inspired by his concept of noncommunication, the articles examine situations and circumstances where communication is avoided, or deemed undesirable, because it would somehow alter the nature of the idea, relationship or situation in question. Authors also draw attention to the unspoken and the unspeakable as they emerge in ethnographic fieldwork and the research process, discussing the challenges of doing fieldwork on silence and pushing the boundaries of silence as an analytical category.
Silence emerges from this special issue as a productive and performative force constitutive of agency, power and the margins of society and language. Case studies from Estonia, Finland and the north-western and north-eastern part of European Russia trace the roles silence plays in "doing old age" (Karoliina Ojanen), "doing family" (Pihla Maria Siim), and sustaining co-existence in societies divided by ethnic lines (Elo-Hanna Seljamaa). By exploring the symbolic meanings of silence among Evangelicals, two articles (Tuija Hovi and Piret Koosa) add to the growing body of scholarship that questions the fundamental role of language in Evangelical Christianity and seeks to broaden perspectives on understanding conversion.
This volume also includes one open issue contribution by Anne Eriksen, who on the basis of British and Nordic examples explores the entangled genealogies of the notions of history and tradition as the twin products of a uniquely modern temporality
Special issue editors: Elo-Hanna Seljamaa and Pihla Maria Siim
As E‐journal: www.mtp.hum.ku.dk/details.asp?eln=300402
Kahithe Kiiru
National Competitive Festivals:
Formatting Dance Products and Forging Identities in Contemporary Kenya


Sheila M. Young
The Role of Costuming in Two Pre-wedding Rituals for Women in Northern Scotland


Christian Ritter & Klaus Schönberger 
"Sweeping the Globe":
Appropriating Global Media Content Through Camera Phone Videos in Everyday Life


A. Asbjørn Jøn 
Green Jesus of Azeroth:
Hero Myths and Fan Based Perceptions of Similarities Between Jesus of Nazareth and the World of Warcraft's 'Thrall'